I'll say it again and again – my mom doesn't get flowers often enough.  I rarely saw her get flowers growing up.  I'm not a big flower person myself, but I know that my mom appreciates it.  I've only sent her flowers once before, and I wanted to put this on the list to remind myself of how lucky I was to have a great mom.
She loves two things – the color purple and butterflies.  So, I found this to send her: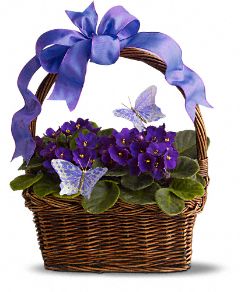 She said they looked great 🙂  I hope everyone had a wonderful Mother's Day.